GET THE PERFECT GIFT FOR THAT SPECIAL SOMEONE ❤️ 
Show your special someone your endless love with this vibrant, Love Rose! It arrives beautifully packaged and ready to go! Each lovely rose is delicately hand-made of iridescent leaves and designed to last forever.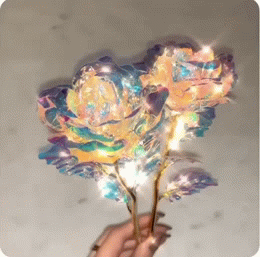 OUR HANDCRAFTED LOVE ROSE IS MADE TO LAST FOREVER ♾️
This breathtaking rose is designed to last for eternity. Handcrafted by professionals with exquisite precision, the rose is the best gift for any occasion or holiday.
A SIMPLE WAY TO PROVE THAT YOUR LOVE IS ETERNAL FOR THEM 

💕
Express your love with the one of a kind Love Rose. There's no better way to say I Love You than with a rose, the ultimate sign of love universally!
The Love Rose is perfect for Anniversaries, Weddings, Birthdays, or any occasion that warrants such a unique and precious gift! Comes beautifully packaged in a decorative box making gift-giving easy. 
Includes Gift Box

Individually Handcrafted 

Size: 11 inches tall (approx.)
What are they made of?
The process by which our roses are crafted is very unique! First, we took the roses that are grown from our various farms and used a special technique that freezes them.
We then used the frozen moldings as a model. Then we coat the stems in gold, then we hand place each iridescent holographic coated petal which makes the roses look so eye-catching!
Each rose is one of a kind and made to last a lifetime so your loved one will be reminded every single day just how much they mean to you!
Features:
Every Love Rose is one of a kind just like your loved one!
Every Love Rose comes with a gift box.
Each Love Rose is handmade.
Elegantly crafted to look both beautiful and realistic!
Amazing shine!
Not available in stores.
Standard length, approximately 11-12" long.
A completely unique gift, no other gift can compare!
A NEW & CREATIVE GIFT FOR ANY OCCASION!
Perfect for Graduations, Birthdays, Anniversaries, Valentine's Day, Weddings, Engagements, Baby Showers, Mother's Day, or "just because", our Love Rose is the perfect keepsake and gift for any occasion!
Order today to get FREE shipping on the Love Rose!
Everything came as in the picture, love it also the packaging is so clean!
Great product as in the description.
Everything came as in the picture, love it also the packaging is so clean!
Great product as in the description.