SAYING "I LOVE YOU" TO SOMEONE IS SOMETHING BEYOND COMPARE
Saying "I love you" to someone is something 

beyond compare

 but also something pretty easy to do when you feel it in your heart. We've always been looking for 

ne

w

 and 

u

nique

 ways to show off our love to someone and we all know that it's not that easy to come up with something completely stunning. But how about saying the wonderful and most unique phrase "

I love you

" in 

100 Languages

?
Here at Lome Brand, we are always trying to offer our customers the 

newest

, 

most stunning

 and 

unique

 

products on the market. After months of research, designing and development, we are extremely happy to introduce to you the most 

perfect

 and 

specia

l

 way of showing love to someone with our 

100 Languages of

 "

I Love You

"

 Necklace

.
Our Love Necklace is the most special present that a person can give to 

his

/

her loved one

, 

a friend

, or 

a

 

relative

. The most fascinating part is when the prism of the pendant gets illuminated by light, the necklace 

will project

 the wonderful "

I Love You

" phrase 

in exactly

 100 Languages

! Whether you're in a relationship, have a brother/sister, a best friend, or maybe you are looking for 

the best Christmas present

 for your awesome mother, this is something that will be sure to give a smile.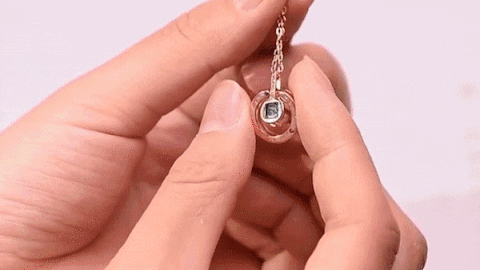 The "I Love You" Necklace can be worn in 2 different styles and it comes in Silver and Rose Gold. It is a truly marvelous piece of artwork which has been created in only 100 pieces, representing all of the languages that have been used to design the necklace's prism. If you are looking for something unique and creative, we believe that nothing can be more special and beautiful than this.
All of the words are engraved through the art of nano-micro carving.
"I LOVE YOU" in 100 Languages Necklace ❤
"I LOVE YOU" in 100 Languages Necklace ❤
My mom loved it❤️
Thank you for everything 👍🏼❤️
"I LOVE YOU" in 100 Languages Necklace ❤
"I LOVE YOU" in 100 Languages Necklace ❤
My mom loved it❤️
Thank you for everything 👍🏼❤️